OPENS
Graham Butler Foursomes - 2014
Congratulations to the Winning team from Hayling Golf Club - Steve Clapp, Darren Walkley, Richie Harris and Joe Foster.
For the Full results please click here

SALTERNS ALLISS MERLO - Monday 1st September 2014
2014 Overall Winners - Hearnes Estate Agents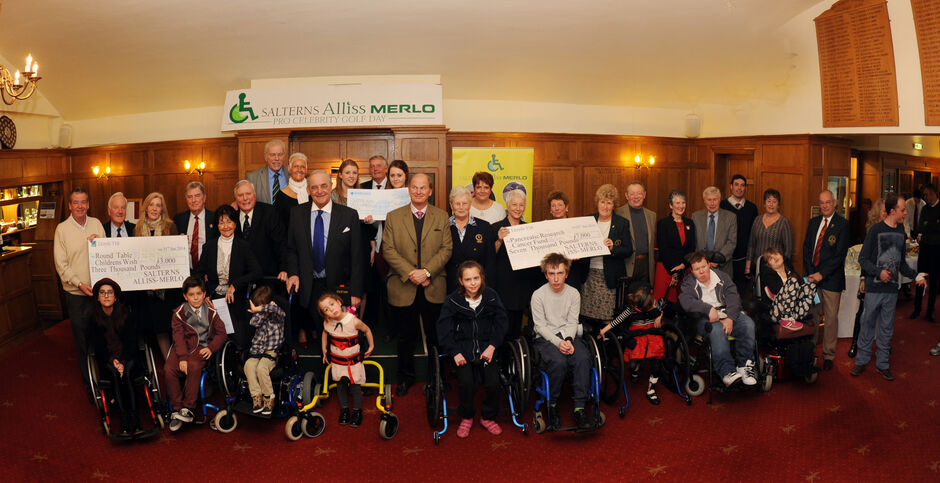 PRESENTATION OF MONIES & WHEELCHAIRS
On 31st January 2014 at Ferndown Golf Club, Barrie Vincent 2013 Club Captain, will present cheques to his chosen charities from the monies raised from the 27th Annual 2013 Tournament held at Ferndown Golf Club on Monday 2nd September 2013
Pancreatic Cancer Research - £7,000
Round Table Childrens Wish - £3,000
TOTAL GIVEN BY CAPTAIN OF FERNDOWN GOLF CLUB: £ 10,000
In addition Peter Alliss will be donating the following aids through the Peter Alliss Wheelchair Crusade :
* Isabella Ruiz Perez Age 4 Walker
* Heather Gutteridge Age 12 Wheelchair (CIA Society)
* Sophie Pritchett Age 11 Walker
* Lauren Taylor Age 15 Gaitmaster Walker
* James Hunt Age 29 Tandem Tricycle
* Sam Moores Age 10 Walker
* Ebony Robinson Age 15 Crocodile Walker
* Holly Morris Age 6 Walker
* Joel Bathe Taylor Age 13 Attendant Control for wheelchair
* Stuart Blundell Age 7 Walker
* Sophie Thompson Age 7 Stander Frame
* Spencer Owens Age 16 Walker
* Leon Meal-Moss Age 10 Manual Wheelchair
* Charlie Summerfield Age 7 Power Wheelchair
* Joanna Thomas Age 39 Power Wheelchair
TOTAL GIVEN BY PETER ALLISS CHARITIES £25,000
TOTAL GIVEN BY CAPTAINS CHARITIES £10,000
2013 GRAND DONATION TOTAL of £35,000
2014 Ferndown Golf Club Captain, John Ainsworth will announce his chosen charities for the coming year
* New Forest Sailabilty
* Lewis Manning Trust
* The Dolphin Sailing Trust
Results are now available for the following events:
Previous Competitions
Latest News

Captains Drive-in
18th November 2013
Congratulations to John Ainsworth, 2014 Club Captain and to the winners of his drive-in competitions.
Read More...
CAPTAINS FAREWELL DINNER
9th November 2013
The Captains Farewell Dinner and Charity Cheque Presentation took place on Saturday 9th November 2013
Read More...